PowerTerm WebConnect Enterprise SCO Edition
Secure Enterprise Legacy and Windows Application Access with Remote Desktop Support
Ericom's enterprise Server Based Computing solution, PowerTerm® WebConnect, is now available for SCO OpenServer 6. As a comprehensive solution, PowerTerm WebConnect provides secure local and remote access to enterprise applications, including character based applications residing on SCO UNIX servers, Microsoft applications running on Windows Terminal Server 2000 / 2003 / 2003 x64 and other legacy system applications. PowerTerm WebConnect is the ideal solution as it is 100% compatible with SCO character based applications and Windows applications to support enterprise-wide application access and delivery.
Secure Local and Remote Access to Enterprise Applications
Application Publishing with Seamless Windows applications
Load Balancing and Active Directory integration
Central Administration & Management: No client side installations, lowering TCO and optimizing IT resources
SupportView: pcAnywhere® like Remote Desktop Support
Enhanced security: SSH, SSL, Secure SSL Gateway
Best Network Bandwidth and CPU Utilization in the Industry
Supports over 30 different terminal emulation types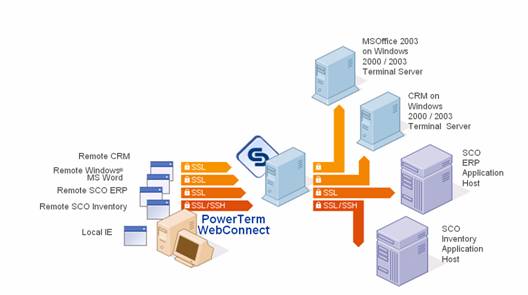 For more information about access to Microsoft Terminal Server, click HERE.
For a list of supported terminal emulation types, click HERE.
PowerTerm WebConnect SCO Edition for System Administrators
Secure Remote Support and Training
Provides SCO Administrators with the ability to remotely and securely administer the organization's SCO servers and other enterprise Legacy systems including: IBM Mainframe, IBM AS/400, UNIX, OpenVMS, Tandem, HP-3000 and others
Includes SupportView a pcAnywhere® like Remote Desktop Support tool
Remote user support & training and remote administration of the enterprise SCO servers and other Legacy systems are all secure and firewall friendly.
For more information about Remote Desktop support, click HERE.
For more information, please contact SCO, your local SCO reseller or visit: http://www.sco.com/products/webconnect/